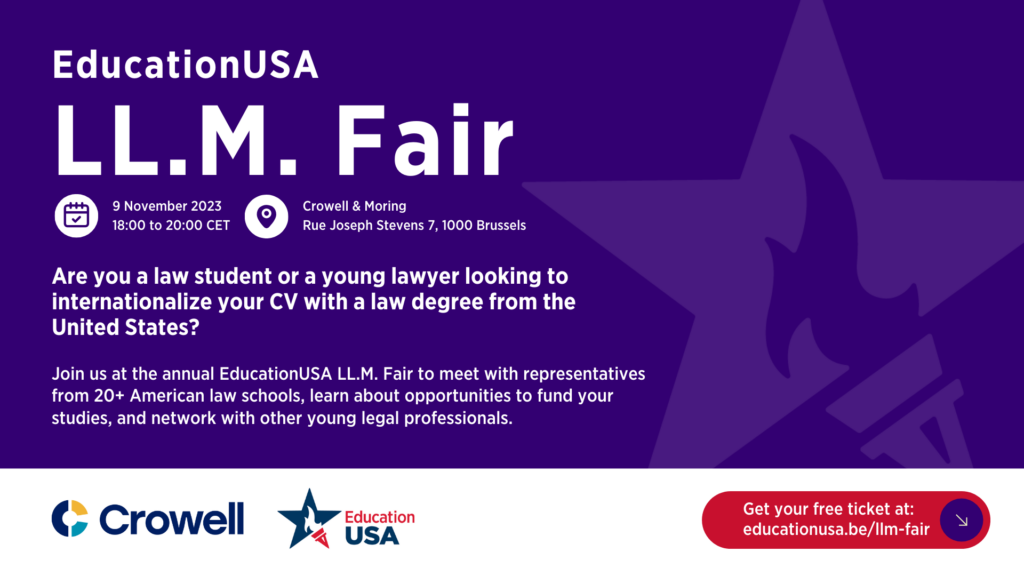 On the evening of 9 November 2023, the Fulbright Commission in Brussels is proud to welcome representatives of 20+ American law schools as part of their LL.M. Tour across Europe.
Now in its eighth year, the EducationUSA LL.M. Fair provides law students and young lawyers in Belgium the opportunity to meet and network with representatives from 20+ American law schools. Attendees will learn more about the application process, admissions, and the content of LL.M programs in the United States and will also be able to meet with law school representatives one-on-one. Whether you are a law student preparing for your next steps or a young lawyer looking to internationalize your CV, the EducationUSA LL.M. Fair is the perfect opportunity to learn more about legal education in the United States!
The LL.M. Fair is organized by the EducationUSA Advising Team in Belgium, located within the Fulbright Commission. EducationUSA is a U.S. Department of State network of over 430 international student advising centers in 178 countries and territories. The network promotes U.S. higher education to students around the world by offering accurate, comprehensive, and current information about opportunities to study at accredited postsecondary institutions in the United States.
This year's fair will take place on Thursday 9 November 2023 from 18:00 to 20:00 at the Brussels Office of Crowell & Moring, located at Rue Joseph Stevens 7, B-1000 Brussels.
Attendance at the EducationUSA LL.M. Fair is free, but space is limited and registration is required.
Participating Institutions
The following U.S. law schools will be present to offer information about their schools and their programs.
Boston University School of Law
Cornell University Law School
Duke University School of Law
Fordham University School of Law
George Washington University Law School
Georgetown University Law Center
Loyola Marymount University Law School
New York University School of Law
Northwestern University Pritzker School of Law
Texas A&M University School of Law
Tulane University Law School
University of California – Los Angeles School of Law
University of California – San Francisco College of the Law
University of California – Berkeley School of Law
University of Colorado – Boulder Law School
University of Michigan – Ann Arbor Law School
University of Nevada – Las Vegas William S. Boyd School of Law
University of Pennsylvania Carey Law School
University of San Diego School of Law
University of Wisconsin – Madison Law School
Vanderbilt University Law School