Find Your Fit on Campus with a Student Club or Organization
Liesl Greider | Spring 2020 EducationUSA Intern
One of the most important parts of the college application process is "finding the right fit." But while it is important to figure out what college or university is the best fit for you, the process doesn't stop once you arrive on campus in the fall. Participating in student clubs and organizations can help you to find your fit on campus!
One of the biggest draws for an American college or university is the amount of on-campus clubs and organizations that are offered. Most American colleges boast having many clubs and organizations that add to the overall educational experience. While even a small college like my own, Roanoke College, has over one hundred clubs, bigger universities might have up to a thousand different organizations of all shapes and sizes.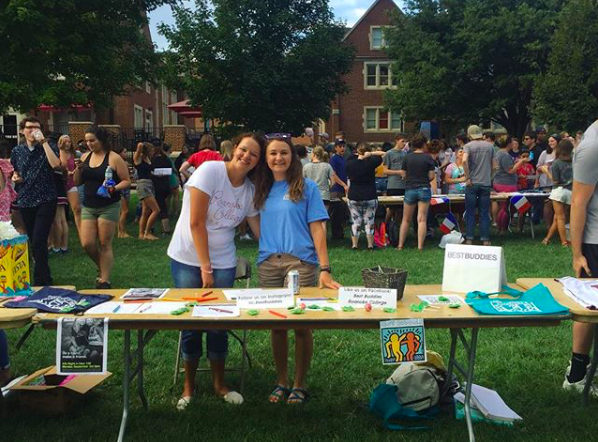 When I chose my college I expected there to be the typical organizations like sororities and fraternities, and then maybe a few others that centered around general common interests. What surprised me when I finally arrived on campus was just how broad the clubs actually were. From the Harry Potter Club to the Outdoor Adventures Club, they covered drastically different interests, hobbies, and passions. With so many offerings, the typical response is one of excitement at the ample opportunities available. However, this excitement can very quickly turn to a feeling of being overwhelmed; how can anyone possibly pick which clubs to join when there are so many options? Fortunately, the choice was actually quite simple for me, and it can be for anyone who approaches clubs with an open mind.
Most colleges start the fall semester with a big activity fair, staffed by representatives of various student clubs and organizations. They cover their tables with information packets, sign-up sheets, free trinkets like t-shirts and candy, and then they do everything they can to get you to come over and join their club — including promising pizza or fast food at their meetings. It worked on me! As I walked around my activity fair as a freshman in college, the loud thrill of people from every direction calling me over to join resulted in me writing down my name and email for dozens of clubs, certainly more than I could ever have time for.
The first two weeks following the activity fair, my calendar was booked up with info sessions and club meetings. I went to info sessions for the Debate Club, the Environmental Club, the Beekeeping Society, the Women's Tennis Club, the Outdoor Adventures Club, the Cinema Club, the Knitting Club, the Group Fitness Exercise Club, the Best Buddies Chapter, a service fraternity called Alpha Phi Omega, a social sorority called Chi Omega, a Christian Bible Study Club, the History Club, the French Club, and the Nerf Gun Wars Club. Signing up for dozens of clubs and approaching them with an open mind allowed me to check out all my options so that I could determine what groups I clicked with the best and what activities I enjoyed the most, at which point I would focus my time and energy on those.
I found that some of these clubs were quite small due to the nature of my college's tiny student body. (Did you know that Roanoke College only has about 2,000 students?) For example, the Knitting Club was run by a lady who was always knitting during lunch time and so created the club as a means to invite others to join her. The Cinema Club turned out to be a group of friends who loved watching movies together, so they created the club to draw other fellow-movie lovers that they could share their evenings with. On the flip side, other organizations — like the sororities and fraternities on campus — turned out to be quite massive and well-established, drawing upwards of seventy or eighty participants. The size of a particular club or group depends on the size of the university, but it can generally be said that there are always small organizations and large ones. What I enjoyed most was taking advantage of the benefits of each type.
After a successful first meeting with the Beekeeping Society — which I found to be a small group of only six students who loved honey, the environment, and all things bees — I found that I really enjoyed this tight-knit group of passionate people. The size of the group made it easier for me to really leave my mark on the club. I was able to play a bigger role in planning our trips to bee sanctuaries and managing the club's finances as treasurer, and was able to learn so much more about beekeeping than I would have had there been a massive group of people crowding around the hives each week.
A similar experience with another organization, Best Buddies, allowed me to take on an even bigger — and unexpected — leadership role. . Best Buddies International sets up chapters on college campuses where students are encouraged to include people with intellectual and developmental disabilities by being their "buddy." At the informational session for this club, I was surprised to find that I was the only person who showed up. The presenter, a graduating senior, spent the session trying to convince me, the only person there, to take over the club as the new president. Excited about this leadership opportunity and having found a passion in the cause that Best Buddies represents, I agreed to be the new president of the club. This turned out to be an amazing opportunity since it gave me the chance to grow this club on campus thus improving my advertising and recruitment skills. I have also learned so much about leadership from being the president of this club, something that can be hard to learn unless you are in a leadership position in the first place.
While I have had terrific experiences in small clubs, I think that larger organizations come with their own advantages as well. The largest organization I am a part of at my college is a co-ed service fraternity called Alpha Phi Omega (APO). Despite being a co-ed fraternity, there are ironically far more girls than there are guys … but what is most important is that we all care deeply about making service a big part of our lives. We all commit to serving in our communities for at least thirty-five hours per semester. My favorite types of service include working in the local soup kitchen and volunteering to clean trash from the Appalachian trails right nearby my school. Joining APO has given me the chance to experience the aspects of Greek Life that appealed to me. I have been able to pursue my passion of service with like-minded people and to develop lasting friendships with my fellow members. The majority of my greatest college friends come from APO, and despite being miles apart, we still keep in touch and laugh about our fun memories shared through the organization.
The best advice I received when I first arrived at college was to get involved. By doing so, I have been able to enrich my college experience and find my fit at Roanoke College. My advice to international students arriving at a U.S. university would be to explore the club offerings on your campus. With these, you have the chance to expand your horizons beyond just your coursework. You can learn a new skill — like how to keep bees! — while also enjoying time with people who just might become your lifelong friends.
An intern at the Fulbright Commission in Brussels, Liesl Greider is a junior at Roanoke College majoring in History with a minor in French. The opinions expressed in this article do not reflect the views of the EducationUSA Advising Center or of the U.S. Department of State.